Learn more about the Groomer.io Pack 🐾
Who are we?
We are a small but growing team. We're passionate about the health and well-being of fur babies across the world.
We believe vulnerability is the key to trust and altruism is the secret to happiness.
What is Groomer.io?
Groomer.io is a simple-to-use app that helps you run your pet grooming business. Groomer.io will help manage appointment schedules, customer and pet information, send SMS text messages, phone call reminders, confirmations and so much more.

Easy Scheduling:
No more fumbling for index cards when a customer calls. Use Groomer.io's quick search to know all sorts of information on your client before you ever answer the phone. From this one place you can see customer contact information, including all the pet information. And what's great, is all the information is optional!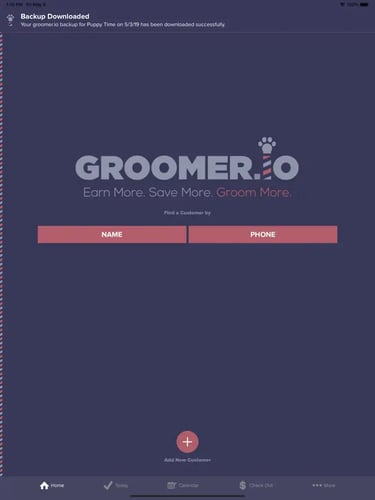 Screenshot of Groomer.io home screen
Historical Records:
Keep track of when your client was here last and what services they received. See the pictures, and notes that you took regarding past appointments. If a client wants what they had previously, no problem, just reschedule the past appointment. This way the prices are consistent for each customer.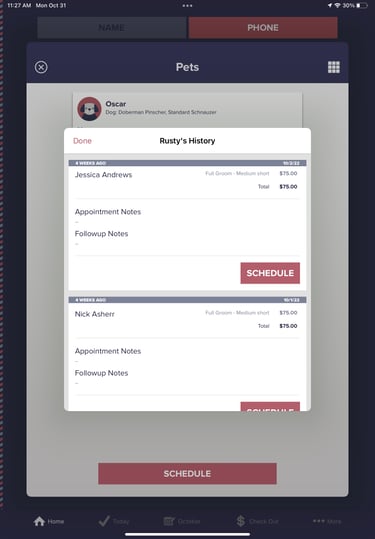 Screenshot of a pet's Appointment History

Manage Your Day:
Keep track of which clients are scheduled to come in, which pets are currently in your facility and who you should be expecting for pick up, all in one place. Of course, Groomer.io will notify the customer automatically when their pet is ready for pickup, leaving you more time to focus on what you love to do – Groom.
(Gif of Today screen Process)

Save When They Pay:
Groomer.io has a point of sale built right in. Take Cash or Check in no time. Paying with a card? No problem, Groomer.io has partnered with SignaPay LLC. to bring you cheap credit card processing rates. Now you can save money while you make money.